Don't risk the chance for a costly repair, loss of productivity, or an uneventful disaster by not having your lifts inspected.
The Automotive Lift Institute (ALI) recommends all vehicle lifts be inspected by a qualified inspector at least annually in order to ensure reliability and allow the continued safe operation of the lift. Additionally, an increasing number of local building codes and other regulations require annual lift inspections. EVT performs inspections on all makes and models of automotive life equipment.
Our technicians constantly undergo education for their lift knowledge with comprehensive factory training on installation, maintenance, repair, and inspections for a multitude of lifts. With over 27 years of reputable experience, our inspectors attend courses on:
Troubleshooting Hydraulic Systems
Lock Out/Tag Out Procedures
Basic Electricity
Personal Protection Equipment
Handling/Transporting Hydraulic Fluid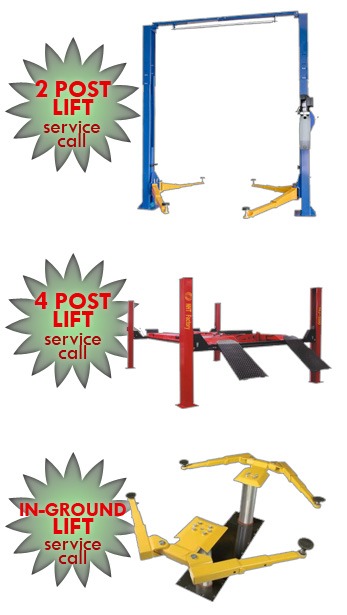 Lift inspections done by EVT include:
timed leak test with elevated vehicle
fluid capacity and condition
adjustment and lubrication of cables and pulleys
inspection of post and columns for rust / damage
inspection of pads, rollers, slides, ramps and safety features
inspect electrical terminals, wiring, and switches
torque verification on all anchor bolts and fasteners
Estimates will be provided for any additional work needed outside of the inspection.
EVT will work with you to schedule an inspection and provide minimal disruption to your service department. Your lifts will be numbered and a lift inspection sticker with the technician's name and the date will be applied to the lift. You will be presented with a binder containing Lift Inspection Reports to file for your records. If your records are ever misplaced, we maintain secondary copies for 3 years.